PANORAMIC PICTURES OF PRAGUE
Second, expanded edition
PANORAMABILDER VON PRAG
PANORAMATICKÉ FOTOGRAFIE PRAHY
FOTO PANORAMICHE DI PRAGA
A book of large double-page panoramic pictures of Prague -
a completely different view of the City
with short texts in English, German, Czech and Italian language
Format B5 - 176 x 250 mm (7 x 10 inch), 136 pages, hardcover, ISBN 978-80-904978-1-8
One of the few publications on the market taking Prague in the panoramic format.
To display the inside pages of the book click please on the picture:
<![if !supportEmptyParas]> <![endif]>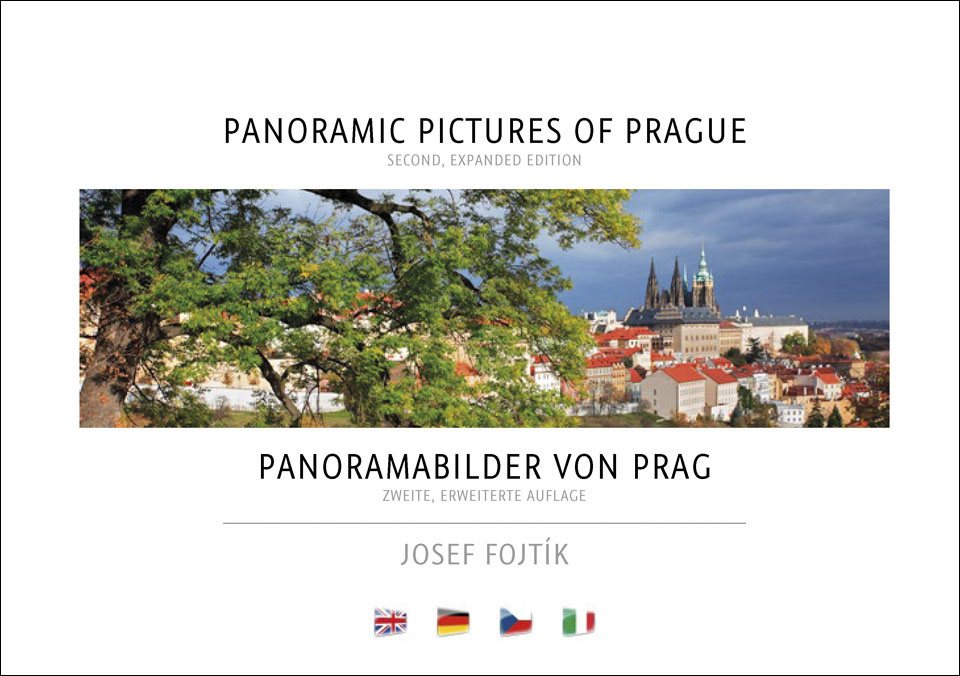 It took me quite some time before I learnt to look from a "wide" perspective, and at first it seemed to me that Prague probably wasn't suitable for this type of depiction. Only after much time did I slowly begin to discover perspectives that had been available to me as a Prague native my whole life, but whose existence I had until that time not really been aware of. I also realised that my objective was not to take photographs of specific buildings on a list, but rather to create a number of personal perspectives on the city, which can take on completely different forms depending on the weather, lighting, time of day or season. In light of that, I don't see this book as an overview of what can be found within Prague, but rather a guide to looking at the city through new eyes.
Josef Fojtík
<![if !supportEmptyParas]> <![endif]>
Discover an entirely new view of Prague!
Use the book as an inspiration for walks through the historical centre of the city
or bring it as a nice present from Prague to your family or friends!
Where to buy the book
:
Kosmas and Kanzelsberger bookshops in Prague and another Czech Towns
Ask also in another bookshops and tourist places in Prague!
Do you need more copies?
Do you need presents for your customers, clients, contractors, visitors, personell, ...?
If you need minimally 10 copies, you can get them for an exclusive price 185.00 CZK for one copy incl. Czech VAT 10%.
(Postage is not included.)
Contact me please on my e-mail:
Are you bookseller?
Contact please book distribution Kosmas.
<![if !supportEmptyParas]> <![endif]>
<![if !supportEmptyParas]> <![endif]>
<![if !supportEmptyParas]> <![endif]>
<![if !supportEmptyParas]> <![endif]>
<![if !supportEmptyParas]> <![endif]>